Genre
Jimmy's chosen domain is his favorite classic rock songs from the 60's and 70's. He also incorporates blues, reggae, country, his own compositions, and other favorites by his band Denali Cooks into his appearances. Occasionally adding acoustic guitar to the act, he creates an easy listening sound with subtle upbeat vibes for everyone to enjoy.
Jingles written
Geography
Jimmy makes his home in beautiful downtown Talkeetna Alaska. In the summer time, together with Larry Zarella, guitar/vocals, David Woody, lead guitar/vocals, and Andy Mullen, drums/vocals, he forms one of the most popular Rock 'n Roll bands in Alaska, Denali Cooks.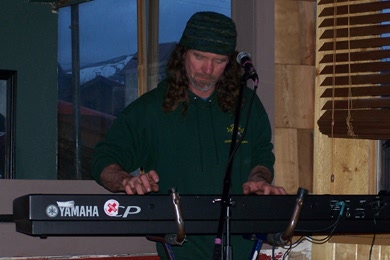 In the Winter, where the mountain bikes have been put up for skis, you can find Jimmy on the slopes of his beloved Mt. Crested Butte, Colorado. It's there with the "Voice of the Valley" Steve Snyder, Jimmy performs as the popular duo Don't Panic.
If he's not in any of those places, you just might find him hanging out in Boca Raton, Florida in late Fall/early Winter where he visits family and friends, and performs solo acts as well as sitting in with long time friends/musicians.
Audio
Jimmy Sandy
Solitary Man
(Neil Diamond)
Jimmy Sandy
The Weight (Take a load off Annie)
(The Band)
Jimmy Sandy
My Fantasy

Contact / Booking
Jimmy Sandy
Talkeetna, AK
Cell Phone: 907-360-8108
Booking agent:
Jennifer Duvall 561-346-9651 (Florida)
Jimmy Sandy 907-360-8108 (Alaska, Colorado)
About Jimmy Sandy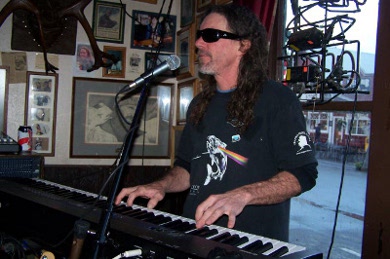 Jimmy Sandy was born James Patrick Sandy on 9-9-59 in New York City and moved with his family to Boca Raton, Florida in the fall of 1970. He began playing piano in his late teens and performed with various southern and classic rock bands in the south Florida area over the next decade Jimmy made the move to Alaska in the spring of 1990 and started living the dream as you can only do in Alaska.
Denali Cooks
The story of Denali Cooks begins back in the Spring of 1990, when Jimmy met singer/guitarist Larry Zarella at a campfire on the Nenana River in Denali National Park, Alaska. They had both come for seasonal jobs as cooks at a local resort there and immediately began playing music together.
Denali Cooks
Shine
@ The Fairview Inn Beergarden in Talkeetna
As the Summer progressed, lead guitarist David Woody, and Drummer Harvey Mills, began sitting in at gigs, and the Cooks were born. They quickly became one of Alaska's most popular festival and touring acts, continuing to enlighten the "Great Land's" music scene with their lively, fun loving originals and unique melodies of their favorite classic rock covers.
History of AlaskaIceJam
Alaska Ice Jam came from an original instrumental jam tune that evolved from sound checks in the early days of Denali Cooks. The band started to call it "The Great Alaskan Ice Jam", "Ice Jam" for short.
As a big fan and supporter of organic fruits and vegetables, Jimmy started calling his morning fruit smoothie the Alaska Ice Jam! Of course the ingredients are frozen - nothing new in Alaska! Ask Jimmy, (since the recipe is a secret), and maybe he'll whip you up a genuine Alaska Ice Jam smoothie!